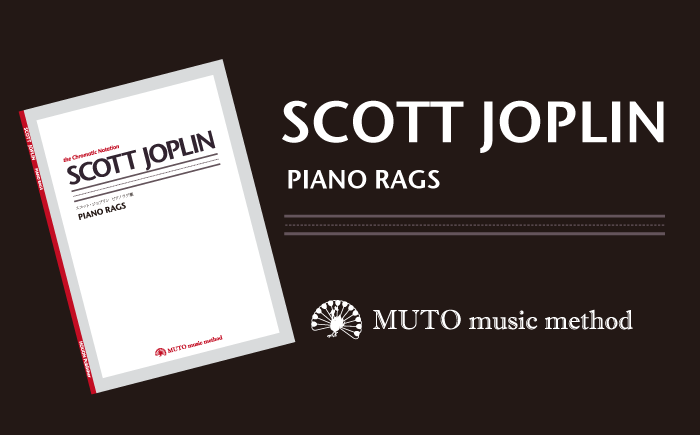 ---
*This article is a translation of "3線譜「スコット・ジョプリン」ピアノ・ラグ集"
Hello!
This is Chromatic Music Lab.
We at Chromatic Music Lab. are continuously expanding our music-related businesses.
One such endeavor is a music publishing company called "Houon Publisher."
We have already published music books based on Chromatic notation which take away symbols such as # and ♭and is also our original method. We have published music practice books and classical music books and so on with 15 titles abroad and 19 titlesin Japan.
The staff in Houon Publisher has also produced covers and original songs which are used with our voice training and singer-songwriter lessons in Chromatic Music Lab.
across many different genres of music.
Please click here if you want to know more about Chromatic notation.
Now, we would like to introduce our newest publication: "Scott Joplin: Piano Rags."

Who is Scott Joplin?
He is a well-known African American composer and performer, dubbed "The King of Ragtime Writers."
He was musically talented since he was a child, but it was his 1899 work, "Maple Leaf Rag" that brought him to his fame.
With this as a starting point, Ragtime spread across all of America.
After that, he continued to compose pieces of Ragtime and Opera.
However, he was not famous while he was alive.
Although it was said that he suffered from syphilis and pneumonia in his later years, the exact date of his birth remains unknown to this day.
But "The Entertainer," which was composed in 1902, became a big hit after it was used in the movie "The Sting," and subsequently won the Academy Awards for Best Music.
In 1976, he was posthumously awarded Pulitzer Prize, the most authoritative award in America.
Even now, his music is often used in popular media, remaining familiar to many of us.
What is Ragtime?
Ragtime is a genre of music that enjoyed great popularity worldwide with America as its center around the time of the First World War.
Ragtime is a style of music developed predominantly by African American musicians
during late 19th century. Its characteristics include a strongly syncopated melody on the right hand, accompanied by modified march beats on the left hand.
This playstyle has given birth to a new sense of rhythm which is very different from classical music. And this syncopated beat later influenced jazz, and has even been passed down to the pop music of today.
Beginning with Scott Joplin, composers such as George Gershwin are among those who have been strongly influenced by ragtime.
About the contents
Our newest publication, "Piano Rags," include 16 of Scott Joplin's greatest work, selected carefully by our staff.
They may not ring a bell if you simply read the titles, but if you listen to the actual songs, you may recognize them from somewhere.
List of contents
 How to read Chromatic Notation(.pdf)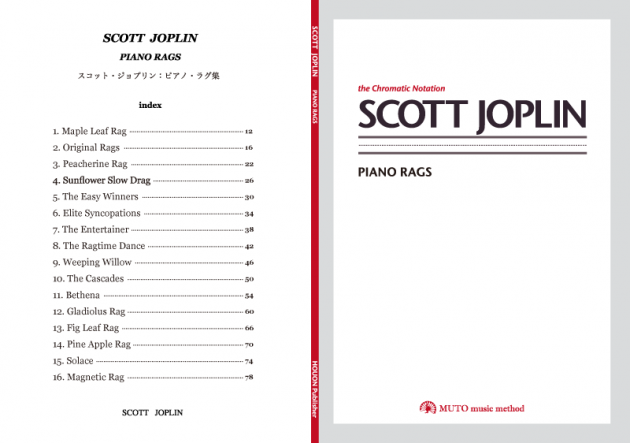 Lastly
Chromatic Notation can be used for virtually any type of instruments; keyboard
instruments, string instruments such as guitars or violins, transposing instruments, and even singing. It can be an effective tool in all kinds of musical education.
You can check for existing publications in the Chromatic Notation here.
We also have them in POD versions and kindle versions, so please give us a look for your favorite music!
Editorial Staff in Chromatic Music Lab.